Summer Reading Program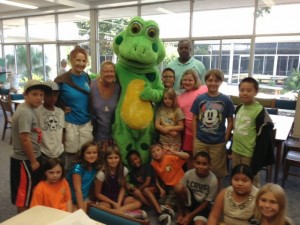 The Summer Reading Program is an ongoing collaboration between the Library and Project Impact and is for Pre-K to 5th graders.
Young readers are each year introduced to their local public library, its resources and the wonder of worlds real and imaginary, found between the covers of books. We hope these readers will continue to explore and enjoy the library's substantial offerings year round. Statistics suggested that students who do not read through the summer holidays loose skill and comprehension which they must make up during the following school year.
Volunteers are welcome for read-aloud, creative crafting assistance and to help young readers check out books.
Click here to read the mayor's blog about the 2014 Summer Reading Program.






Book Sales
We host book sales twice a year to raise funds for the library. The first one is on the first Saturday in May at the library and the second one is on the first Saturday in November at the Seafood Festival. Donations of books are always welcome, as are volunteers to help with the sale.